so I've decided that my Expedition is going to start handling the dedicated extended trip duties. The ultimate fate of the Explorer still hasn't been decided, but it's likely to find a new owner at some point. For now, the Explorer will be used as a day trip 4wheeler where I need more capability and less comfort.
My Expedition is a 2000 Eddie Bauer 5.4L. I bought it in April of 2015 with roughly 174k miles. Best I can tell it's been a Colorado vehicle its entire life: the underside is virtually rust free.
The day I brought it home: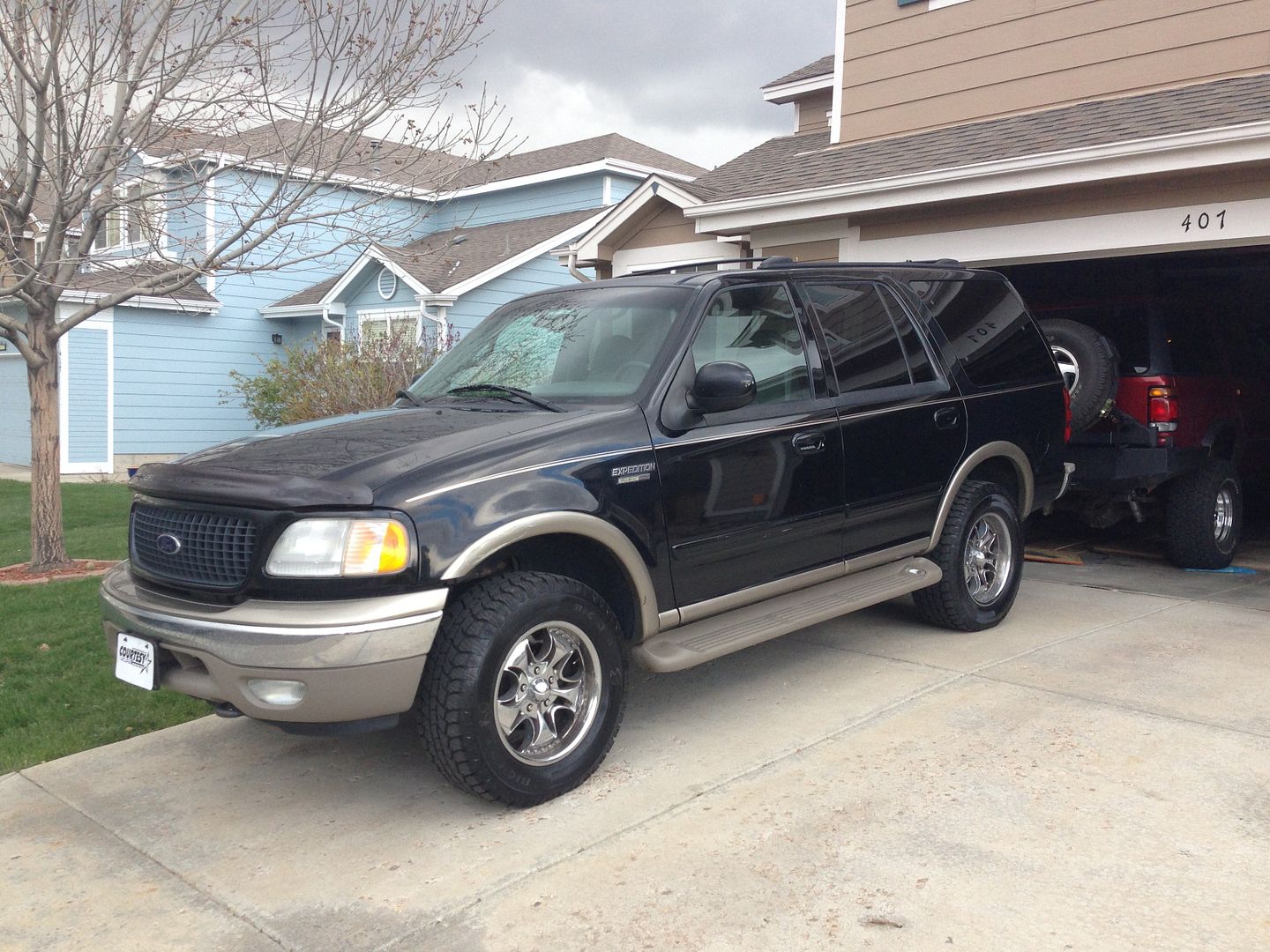 It had some brand new Big O Big Foot all-terrain tires on some horrible looking chrome wheels. I was a little concerned with the new tires- who puts new tires on a vehicle just before selling it? Unless you're trying to cover up some suspension issue that is causing bad wear..... I checked it over pretty good before and decided it was good. In 15k miles, I still haven't noticed anything out of the ordinary.
First on the docket was the interior. It was nasty.
But after some time with a Magic Eraser, it cleaned up pretty good:
Some other projects popped up along the way: washing/waxing to breathe some life back into a 15 year old paint job, new spark plugs, new fuel filter, new shocks, new intake manifold (the coolant cross over tube is known to crack and leak coolant everywhere).
I still had my 60 day tags and I couldn't take those wheels anymore. I got these wheels before I started seeing them everywhere. Maybe they were there, but I just wasn't seeing them in traffic like I do now.
I didn't even bother selling the old ones- plus I didn't have the lug nut key for those lug nuts. Best $72 in scrap I've ever got!
Then I took the family camping: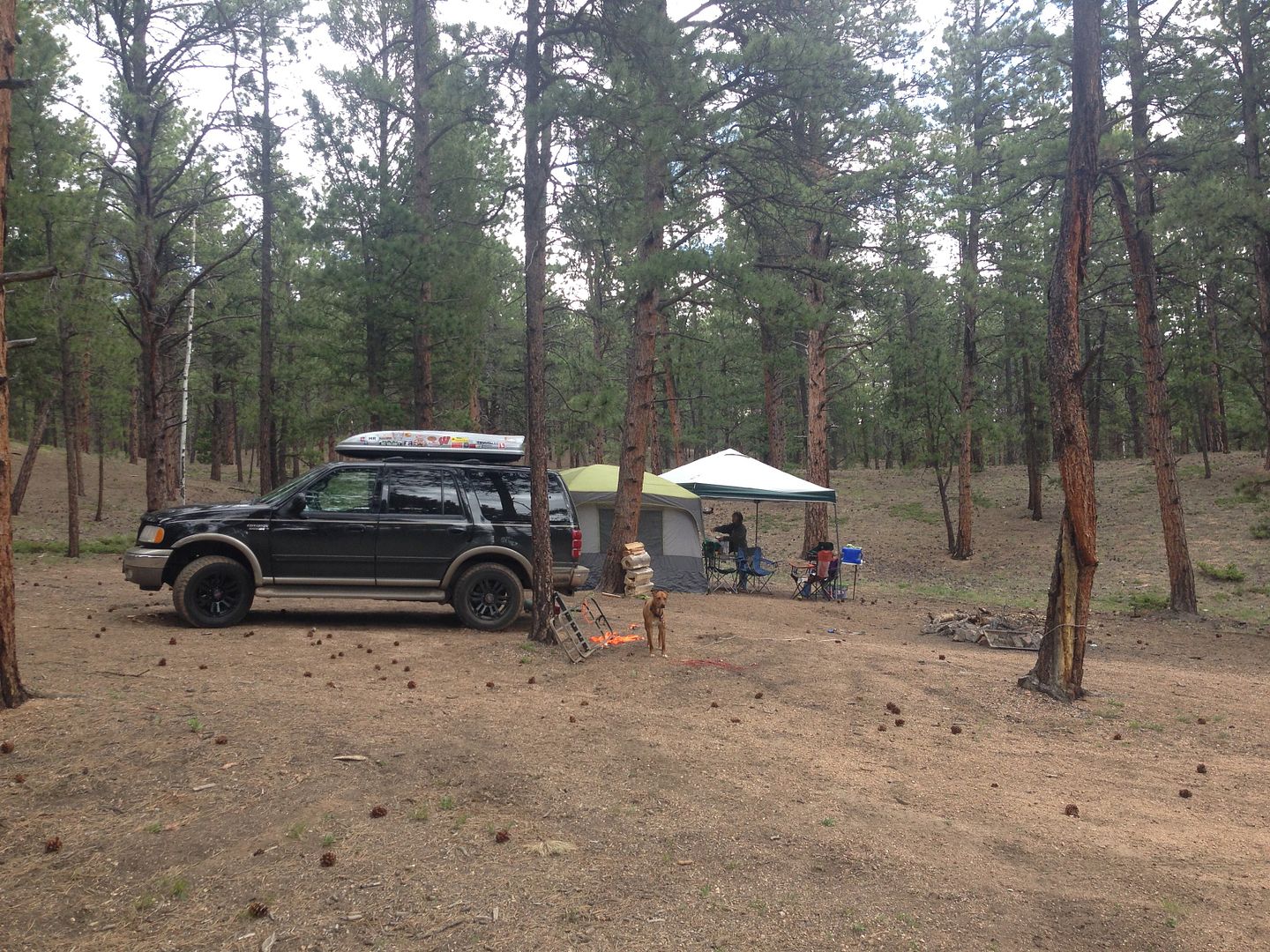 It worked well. 4 people and 2 dogs for 2 nights.
Then again to the No Excuses trip: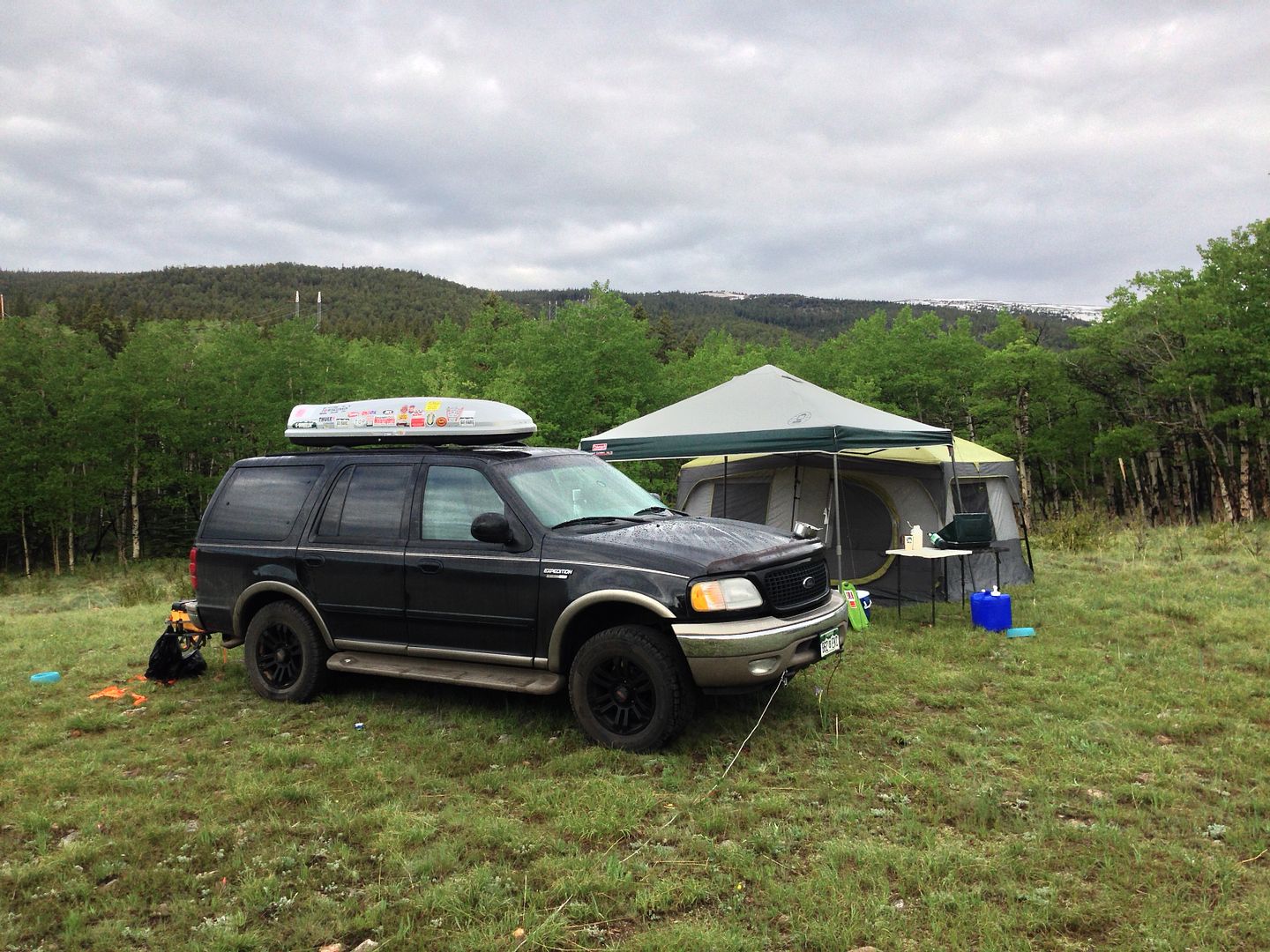 Then another trip to Mount Rushmore:
This was like a 4 night trip. We were a little lighter on the way home as the hail storm that came through camp on the last night destroyed the tent: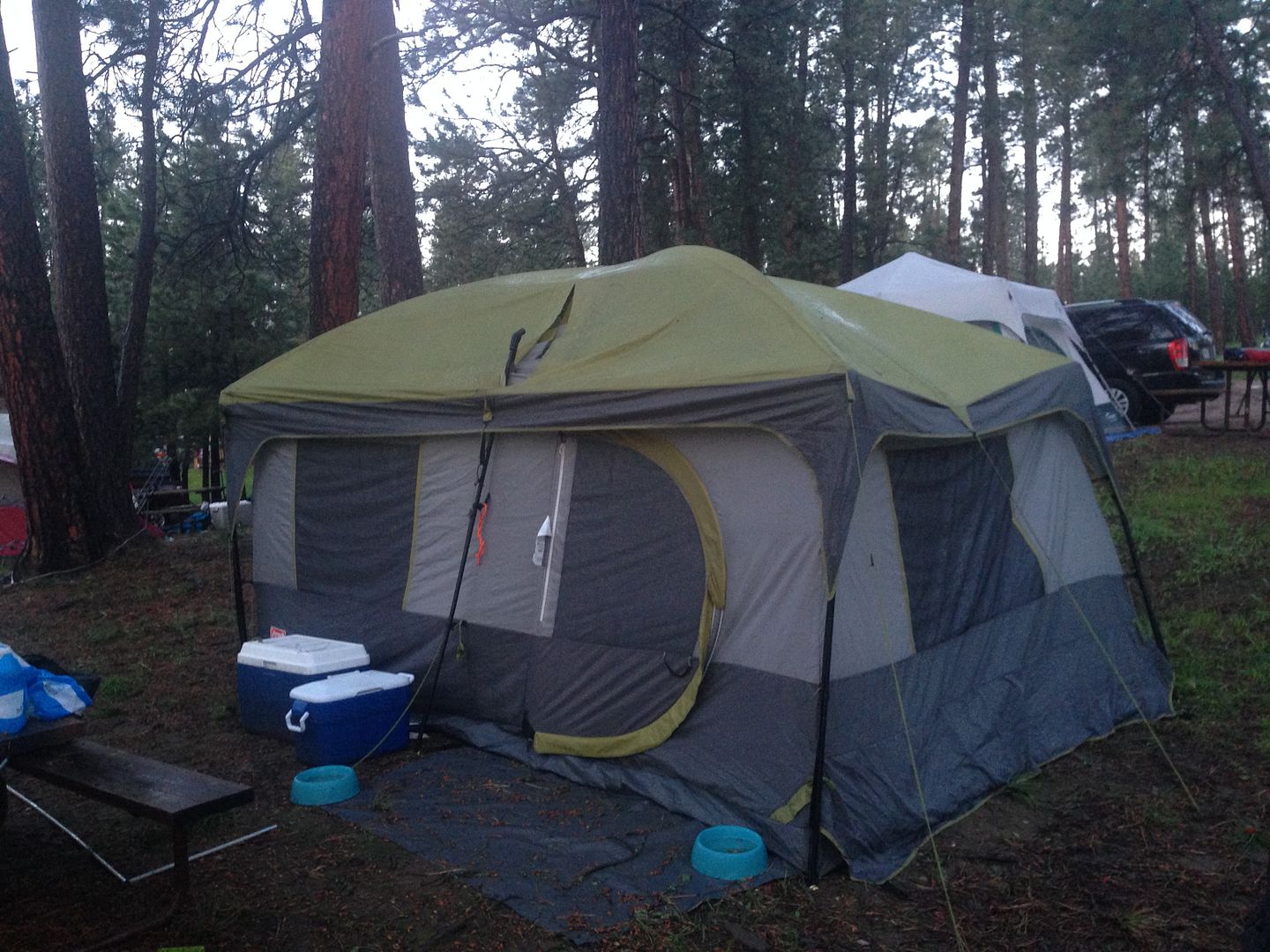 Looks good here- except for the tear in the rain fly and the missing pole. Oh there's the pole: it's cracked and laying on the ground.
The back of the tent: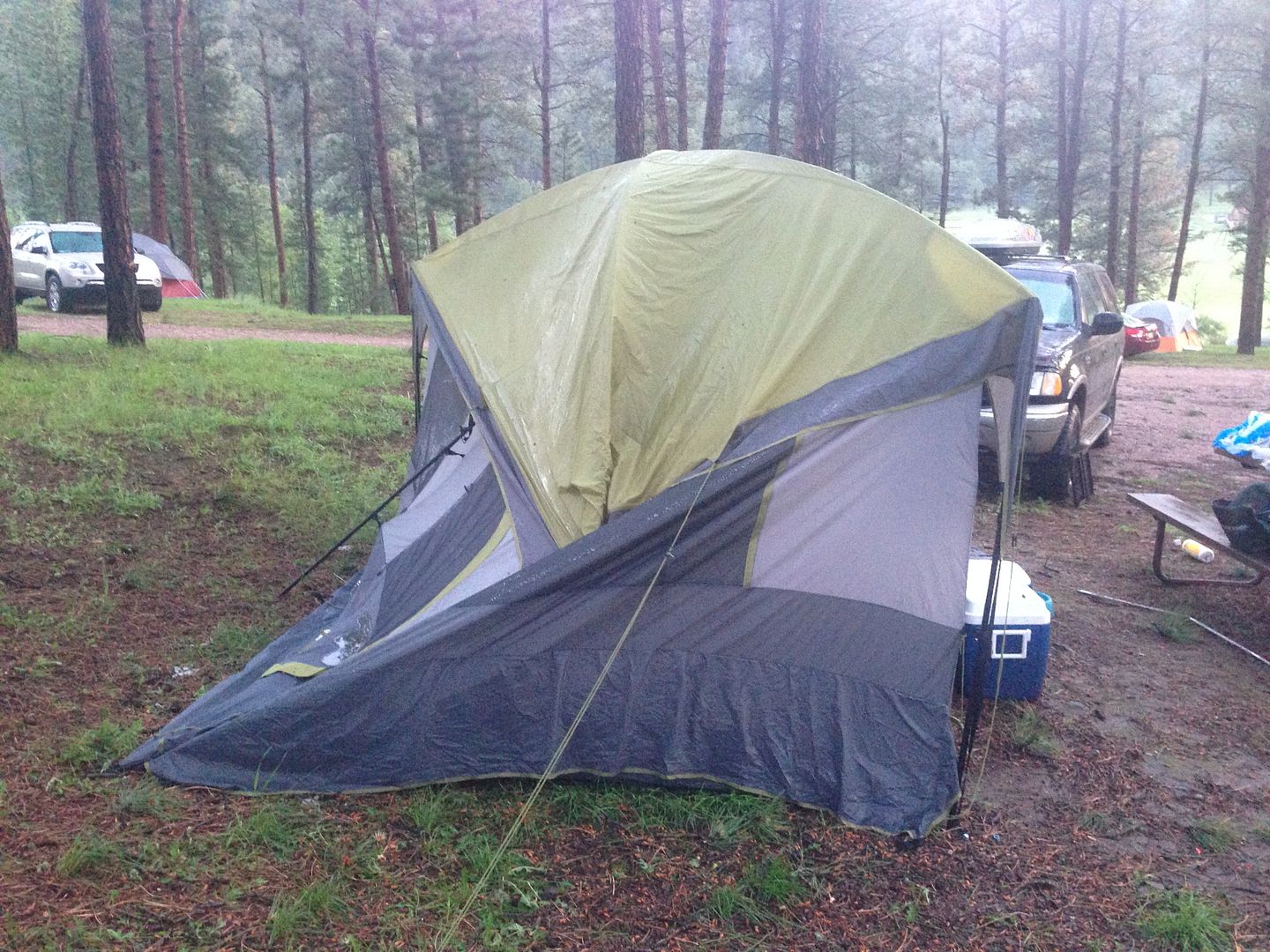 I threw the tent away in the dumpster at the KOA we were at.
The truck took some damage, but all just cosmetic. Some dents in the hood and roof and a couple cracked plastic pieces. I replaced the plastic pieces with some junkyard donors. The dents: I got insurance money for those and left them. I didn't get enough money to fix them all since the damage exceeded the value of the truck. But I got enough to replace the Coleman tent with an Oztent and a really nice Eezi-Awn rack to carry it with- although the rack was initially installed on my Explorer.